A man's wisdom gives him patience; it is to his glory to overlook an offense.

Proverbs 19:11
Today not a whole lot of stuff happened. The day was great though. We were in such harmony. The ceiling was completely painted. We started painting the strip molding. Bob & Gang got almost the entire ceiling in the communication center done. Brother Upchurch (et all) has been very inspiring with his comments and direction. Occasionally, our team has received too much direction.
Here Bob is just verifying one particular direction after a very long day. The whole team rallied in Bob's question, "Do you really want me to put more nails in?!?" He echoed our thoughts exactly.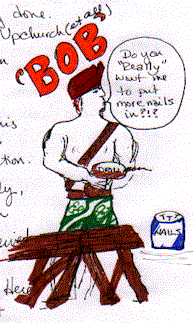 We all worked very hard today and deserved a night off. Once we got back to the YWCA and cleaned up, everyone but myself went to the Meridian & the Sea Wall. I stayed in and organized, washed and journaled. Perfect. Things were in the right place. J
Part of the gang came back from the Meridian early. Jake, Meredith, David, Nylsa, Jodi, Alan, Todd, Missy, Steve, Brett came back while Bob, Carol, Phil, & Kelly stayed out.
A back rub/foot rub session/lesson broke out. David & Jake began giving back rubs while Alan pulled ahead in the boy points and the gross out points with a foot massage (for Meredith).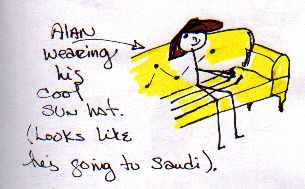 I'm journaling, Brett and Steve are in the room. Todd walks out and Missy is patiently sitting (perhaps waiting for a back-rub, huh, huh). Todd walks in and sees what is going on and declares he is the King of back rubs. That no one is better than he is.