Do you not know? Have you not heard? The LORD is the everlasting GOD, the creator of the ends of the earth. He will not grow tired or weary, and his understanding no one can fathom. He gives strength to the weary and increases the power of the weak. Even youths grow tired and weary, and young men stumble and fall; But those who hope in the LORD will renew their strength. They will soar on wings like eagles; they will run and not grow weary, they will walk and not be faint.
Isaiah 40:28-31
Today the teams moral was up but we were all feeling fatigue. Tired...Tired...Tired.
One thing that sticks out in my mind is my fall. Yes, I could not get through this trip without a fall. In fact I have a big ol' bruise on my tailbone. I stepped backwards off of the stage on top of the tables and landed square on my tail with my right hand and calf breaking my fall.
But the work accomplished was beautiful. We got 1/4 of the room finished molding. Very nice.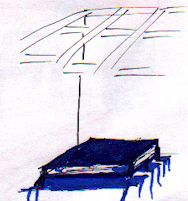 Later in the evening, we went to the Methodist revival at the Kingston church. We sang and sang and sang.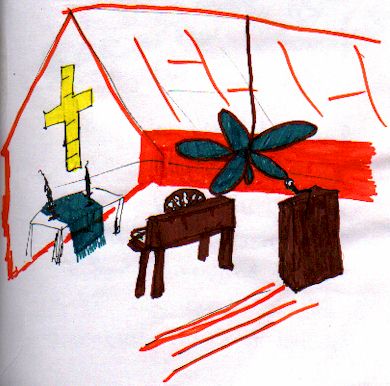 Some of the group got up and did the train up onto stage and around the church.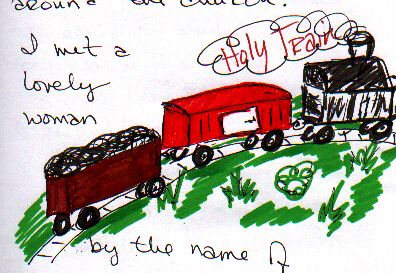 I met a lovely woman by the name of Margery. Yes. This is a popular name here but I haven't been able to figure out why. Margery sat in front of me and told me of her life. Her 48th wedding anniversary had just occurred, however her husband passed 24 years ago. She explained her desire for children and how they would have had kids but she had been back and forth to England (for heart surgery one time & brain surgery another time). Her comment to me was...if we smile and laugh others will not always know our pain and sorrow...and we will have time to heal...I think her statement is one like a double edged sword.
Of course, at night we gathered for fun and activities after the revival and Nylsa pulled ahead in our Princess competition. Nylsa and David were beating each other with their water bottles when somehow David did something to cause Nylsa's water bottle to go flung across the floor and roll back and forth.